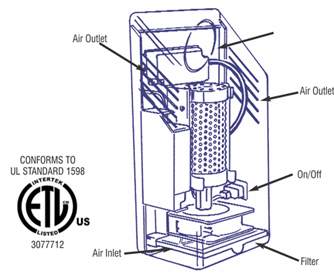 The PureAir Plug In Air Purification System by Zico, designed by RGF Environmental Group to eliminate bacteria, mold, odor and VOCs. The advantage of the PureAir Plug In is its ability to be used in any room and can be completely inconspicuous. The PureAir Plug In can be used with or without its internal fan. The PureAir Plug In is an air treatment system not a filter. Ideal for homes, hotel rooms, suites, public restrooms, offices, locker rooms and more!
The Problem:
Indoor air pollution is now considered by the EPA to be one of the most serious environmental health concerns. Tightly sealed buildings and homes may be more energy efficient but can trap pollutants and microbes indoors causing allergies odors, mold and illness.
The Solution:
The PureAir Plug In has proven to drastically reduce odors, smoke, mold, fungi, VOCs chemical odors) and bacteria found in many rooms. Airborne bacteria and mold reduction is normally in the 90+ percentile.
PureAir Plug In
The PureAir Plug In utilizes RGF's Photohydroionization™ technology which creates Hydro-Peroxides, Superoxide Ions, Hydroxides with the help of a UV light targeted on a hydrated quad-metallic target to develop an Advanced Oxidation Process. This product can be customized as per customer requirements.
Reduces Airborne
| | |
| --- | --- |
| | Smoke |
| | Mold |
| | VOCs |
| | Odors |
| | Bacteria |
| | Viruses |
Benefits
| | |
| --- | --- |
| | Economical |
| | Low maintenance |
| | Light weight |
| | Compact |
| | Hidden mounting screws prevents theft |
| | Washable filter |
Bacteria 99% Reduction
Viruses 99.99% Reduction
Gases and Odors 85% Reduction
Mold 97% Reduction
PureAir PIP - Specifications
Electrical : 220 Volts
Controls : On/Off

Weight : 2 lbs

Material : Aluminium/Polymers
Advanced Oxidation : Less than .04 ppm
Before
After
Actual lab tests showing upto 96% reductions of airborne bacteria and mold